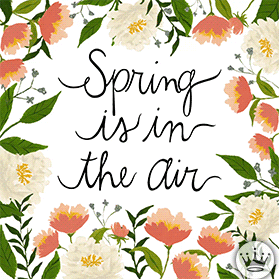 So, here's a look into the grieving process that has taken me by surprise. 
I'm angry at spring. 
Yes, I'm angry at the warm breeze, the sunshine, the flowers in bloom, the green in the trees, the birds chirping and every single bug that is buzzing around. Angry. 
I was content with grey skies, cold wind & dead fauna. At least then, everything around me was feeling my heart. 
Today as I walked into Home Depot's garden section, spring slapped me in the face. 
It felt like the sky and earth and everything in between were smiling and it made me mad. 
Do "they" not know my Dave is gone?! 
When it was still cold and grey it felt like nature was still with me. It felt like at least the earth had not forgotten. It was somehow feeling my pain. But, with spring comes the obvious fact that everything is moving on, moving forward. 
People, insects, plants and flowers- all moving on with life, while I am still sitting here grieving the one I love. 
It doesn't feel right or fair. 
It hurts & I'm mad. 
There's a huge piece of reality for you. 
I'm mad at spring. 
Yes, I know it's a natural, healthy part of life- but today, I don't like it at all. 
Yes, I love God with all my heart. 
He knows I'm mad at spring and He's not mad at me for it. 
He's abounding in love and compassion towards me today.
Psalm 103:13-14
"Just as a father has compassion on his children, so the LORD has compassion on those who fear Him. For He Himself knows our frame; He is mindful that we are but dust."
Please reload